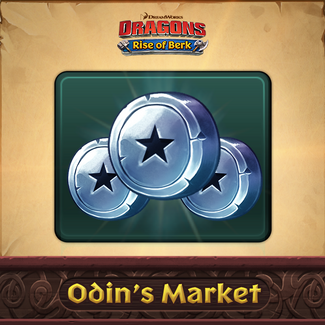 Odin's Market is where you can spend

Odin Coins for the purchase of:
☀ 1 Unique Dragon**
☀ 1 Limited Exclusive Dragon or Rare Dragon
☀ 1 Gold Pack
☀ 1 Classic Pack
☀ 5 Resource Packs
☀ 2 Gold Token Packs
☀ 1 Silver Token Pack

Each pack can be purchased with

Odin Coins.
Odin Coins are obtainable through:
Mystery Pack
Gold Mystery Pack (Dragon Riders Club)
In-game purchases
Monthly Feast Gifts

Odin's Market is restocked every Monday.

**Note: A player may have only one Unique dragon of any type in the game. If a Unique dragon is offered in Odin's Market and the player already has posession of that dragon, it will display in the market as "Sold Out"

Cost for the packs, payable only with 

Odin Coins, is shown below each one in Odin's Market.
Categories
Dragon Classes
Dragon Rarity
Ad blocker interference detected!
Wikia is a free-to-use site that makes money from advertising. We have a modified experience for viewers using ad blockers

Wikia is not accessible if you've made further modifications. Remove the custom ad blocker rule(s) and the page will load as expected.