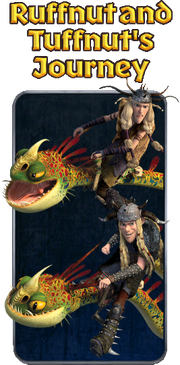 Ruffnut & Tuffnut are two of the Riders that are able to participate in
Journey
.
In order to start one of Ruffnut & Tuffnut's Journeys you must first build Ruffnut & Tuffnut's House to Level 2 (95,000
)

Barf & Belch must also be raised to at least level 6 before Ruffnut & Tuffnut can take him on a Journey.
Journey Locations
Categories
Dragon Classes
Dragon Rarity
Ad blocker interference detected!
Wikia is a free-to-use site that makes money from advertising. We have a modified experience for viewers using ad blockers

Wikia is not accessible if you've made further modifications. Remove the custom ad blocker rule(s) and the page will load as expected.