Screaming Death Collections are Collections that once all items are gathered, you will receive an Exiled Dragon for each completed collection.
But only after the Screaming Death is already on your Berk will these Collections be available.
Dragons Offered in Screaming Death Collections:

There are no Resource Collections anymore, so every Screaming Death Collection is guaranteed to be for an Exiled Dragon.
Needed Collectibles
Every Collection for an Exiled Dragon consists of any random combination of 6 of the following Collectibles:

Note:
The needed amount is only dependent on the Collectible itself and does not change for other Screaming Death Collections.
Collection Design
New Look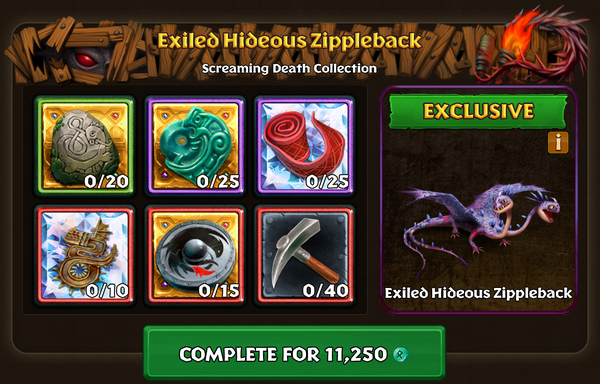 Old Look
Categories
Dragon Classes
Dragon Rarity