The Windmill is a building to increase the population of Vikings on Berk.
Windmill Lv. 1
Unlocked by: Meade Hall Level 5
Capacity: 12 Vikings.
Size on Berk: 5x5
Cost to build: 45,000

.
Time to Build: 2h45m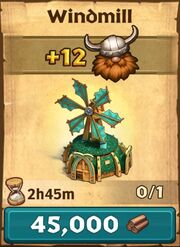 Windmill Lv. 2
Unlocked by: The Great Forge Level 2
Capacity: 162 Vikings.
Cost to build: 5,000

.
Time to Build: 1d
Building Design
| | | | |
| --- | --- | --- | --- |
| Windmill Lv. 1 | | Windmill Lv. 2 | |